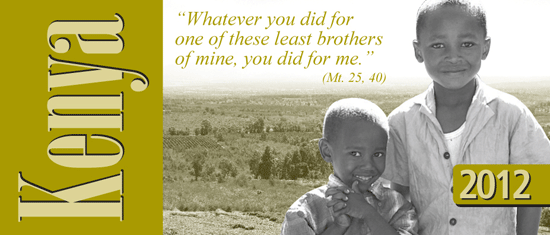 View the 2012 campaign


Father Robert James A. Rezac, IMC
Ghislaine Crete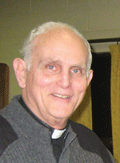 Father "Bob" Rezac was born on March 14, 1938 in the small suburb of Maple Heights in Cleveland, Ohio (USA). After completing high school in Cleveland, he went on to study at St. John's University where he obtained a Bachelor's degree in philosophy and classical studies in 1959. He continued his studies at Seton Hall University in New Jersey, where he obtained a Master's in psychology and administration.
Consolata Missionary Priest Brutally Killed in Parish Robbery
May 4, 2012
Fides Agency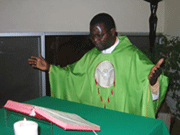 LIQUELEVA, MOZAMBIQUE - Armed gangsters killed a Catholic priest on a Tuesday night raid on Liqueleva Parish, Mozambique. Fr Valentim Eduardo Camale, a Consolata Missionary, was brutally killed May 3, 2012 during a robbery in his parish at around at 8 pm. Reports indicate that he was trying to repulse four armed robbers before he was overwhelmed and beaten to death.


Bringing it to Fulfillment
Peter Turone, IMC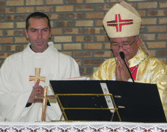 While preparing the booklet for my deaconate ordination held this past November 20th, Solemnity of Christ, King of the Universe, my Mongolian language teacher was very interested in words of the rite. She was particularly moved by the phrase " believe what you read, teach what you believe and practice what you teach". Although not yet a Christian, she understood clearly what was to take place that blessed day.
On the advice of my spiritual director, I had been praying and meditating on the Prayer of Consecration for the Rite of Ordination since May. It is a theologically rich prayer which reveals the seriousness and responsibility of this first grade of Holy Orders. In the beginning I kept thinking to myself how can anyone live up to the Church's desire that her ordained ministers be nothing less than saints.
UNESCO Recognizes Father Leonel Narvaez, IMC
Leonel Narvaez, IMC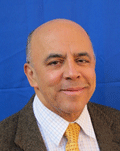 The efforts to build a new Colombia are being recognized: the Foundation for Reconciliation was awarded the Emprender Paz 2011 Prize. The project for "schools of forgiveness and reconciliation," which is operated jointly with the Nestlé Company, was chosen from among 200 entries. The prize is awarded only for projects for peace financed by companies which operate in Colombia.
The Foundation for Reconciliation has its head office in the provincial house of the Consolata Missionaries in Bogotá.
Our Lady of Consolata Community of Prayer

• An ideal spiritual remembrance of a departed loved one
• A gift for a friend or family member on a special occasion
• A way of helping the Consolata Missionaries serve God's people around the world

Perpetual enrollments are presented in white leatherette folders containing a religious picture and certificate. The folders are available in three sizes with the certificates engraved In Loving Memory and A Living Gift.

The Family Perpetual Membership enrolls the entire fam­ily, living or deceased, as perpetual members

One-year enrollment cards are of three types:
• In Loving Memory • A Spiritual Bouquet
• Speedy Recovery

You are invited to become a promoter.
A promoter keeps a supply of folders and/or cards on hand, ready for use.
To order an enrollment or to become a promoter, please call or write:
Consolata Missionaries
PO Box 5550, Somerset, NJ 08875-5550

Tel.: 732-297-9191